Sunday Worship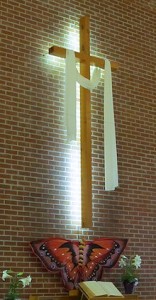 Traditional worship services are held on Sunday morning at the Lancaster United Methodist Church. From Labor Day to Memorial Day weekends, worship services begin at 9:30 a.m. and are followed by coffee hour. During the summer months, worship begins at 9:00 a.m. The worship experience includes congregational and special music, lay leadership, prayer and inspiring pastoral messages.
All people are invited and welcome to worship with us. Please call the church office with questions, 608-723-4384.
Special Services
Wednesday night Lenten services are rotated through the Lancaster Area Churches (LAC) from Ash Wednesday to Easter. Christmas Eve services include communion, candle lighting, and family worship. Longest Night and other special services are held during the year.
Music / Choirs – Bev Mattingly
The Lancaster United Methodist Church Sanctuary Choir is open to anyone of high school age or older. The choir sings the first and third Sundays, September – May, at the 9:30 worship service. Rehearsals are held 8:45 – 9:15 a.m. in the church basement on the days the choir sings. The choir will often sing for special services such as Christmas Eve, Easter or other holidays. The Sanctuary Choir seeks to enhance the worship service through choral and instrumental music. Another added benefit is the fellowship developed among the members. All are welcome!
The Children's Choir sings during worship on the fourth Sunday of each month during the school year.