Phone: 608-723-6612
Teachers:
Lindsay Copsey – teaching 3-4 year old students
Rebecca Bailie – teaching 2-3 year old students
Welcome to the Lancaster Preschool!
We are looking forward to working with and getting to know your children!

Lindsay Copsey – 3-4 Year Old Classroom:
3-4 Year Old Classroom Star Student of the Week schedule for the year
3-4 Year Old Classroom January Parent Newsletter and Snack Calendar
Rebecca Bailie – 2-3 Year Old Classroom:
2-3 Year Old Classroom Star Student of the Week schedule for the year
2-3 Year Old Classroom January Parent Newsletter
2-3 Year Old Classroom January Snack Calendar
About the Preschool:
Open to all children ages 30 months to 5 years.
Class sessions of 3 hours
Mornings 8:00-11:00 a.m. Monday-Thursday
Afternoons 12:30-3:30 p.m. Tuesday and Thursday
Family choice of participating 1, 2, 3, or 4 sessions per week
Affordable Rates:
Annual Registration Fee – $40
Tuition:

1x/week – $46/month
2x/week – $92/month
3x/week – $138/month
4x/week – $184/month
The Lancaster Preschool began in 1972 as a mission outreach of the Lancaster United Methodist Church. Located in the church classrooms, it is financed by tuition and is subsidized by the church. Scholarship money is available for any students needing financial assistance.
The preschool curriculum emphasizes life skills such as manners, friendship, compassion, making good choices, taking responsibility for yourself, and an appreciation for all people. Personal health, safety, and nutrition are also emphasized. Holidays are celebrated throughout the year, and each child's birthday is recognized. The preschool calendar runs consecutively with the public school.
Each child is recognized as the "Child of the Week" sometime during the school year. If possible, the child's special week is held in conjunction with his/her birthday. This is an important week for the child as they share more about themselves, show family pictures, and invite their parents to visit the classroom.
A typical day includes:
– large motor play (outside or basement)
– circle time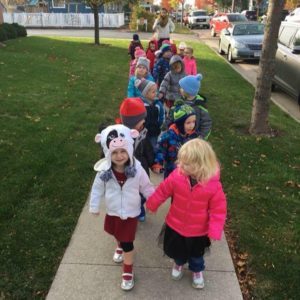 – weather
– story time
– classroom playtime
– blocks
– puzzles
– books
– dress-up
– games
– other activities related to lesson unit
– art project
– snack
– writing letters and numbers
– music
– large group activity
Educational opportunities during the year may be:
– field trips to the dentist's office, the fire station, and the police station.
– grandparents day activities
– visits to the care centers
– other local field trips
– visits from resource people
– food drive for the Holiday Project
– spring concert
Preschool Board
The Preschool Board is comprised of three members of the church and four preschool parents. The preschool director and teachers work with the board.
Lindsay Copsey
Carol Bender
Jen Schmitz
Rebecca Bailie
Mary Lou Bausch
Megan Slane
Melissa Uppena
Ashley Krantz
Margaret Bussan
USDA Statement of Non-Discrimination
In accordance with federal law and USDA policy, this institution is prohibited from discrimination on the basis of race, color, national origin, sex, age, or disability. (Not all prohibited bases apply to all programs.)
---
Registration and Required Forms
2017-2018 Preschool Registration Form
Preschool Scholarship Information and Application Form
Required Preschool Health Forms:
Please note that these four health forms are required by the state. All forms must be completed and signed for your child to participate in preschool.