The first religious services in the community were held by itinerant Methodist preachers.
1848 Methodist preacher named Smith began the Methodist Episcopal Church.
1875 Lot purchased on the corner of Cherry and Monroe Streets. Membership of 150. Cost of building and furnishings was $5000 and was dedicated on Sunday, Oct. 21, 1877.
1877 First Ladies Aid organized.
June 1897 Arsonist attempted to burn the church.
May 1914 First organ was purchased for the church.
1914 Parsonage next to the church was purchased for $4000.
1910s Fifty stars on the church's Service Flag during WWI including one woman and a former pastor.
1921 500 resident members, Sunday School enrollment of 452.
Aug. 1926 Dedication of remodeled basement with meeting rooms and new kitchen.
March 24, 1934 Parsonage destroyed by fire.
Sept. 1934 New parsonage completed.
1940s World War II with 48 stars on the Service Flag, 2 of them gold before the war ended.
1947 Beginning of cooperative effort between several churches. Now known as the Lancaster Association of Churches, organization continues to be vital ecumenical movement in community.
1948 Church celebrated centennial.
1950s Several remodeling projects: dining room, kitchen, classroom in basement, new pipe organ, sanctuary.
1959 Education wing added.
1963-64 Sanctuary was reversed, improving accessibility and unifying education wing and sanctuary. The first service in the remodeled sanctuary was held on Palm Sunday, March 9, 1964.
June 15, 1969 Mortgage was burned and sanctuary rededicated.
1964 Men's Club was organized.
1968 The Evangelical United Brethren Churches and the Methodist Episcopal and other branches of the Methodist Church were joined together to form "The United Methodist Church."
1975 Stained glass windows were repaired.
1977 Local radio station began in Lancaster offering the opportunity for live broadcast of the worship service.
1980s Remodeled Sunday School room for church office and handicapped accessible restroom. New roof on the education wing and overflow room. First computer installed in church office.
1991 Pastor moved into the new parsonage on Carleton Drive. The old parsonage became the education annex and Sunday School classes began meeting in the rooms.
1996 Kids' Club began as after-school program for any children grades 1-4.
1997 New organ and sound system were installed.
1999 Repainting and re-carpeting the sanctuary was the major project.
2008 Major building addition completed.
50 different pastors have served the congregation in our 157-year history.
Currently Speaking
Pastors in the United Methodist denomination are appointed to serve the pastorate positions available. The church hierarchy consists of the state bishop, the district superintendents, and the local pastors.
Rev. Barbara Cook served as pastor to our 350-member congregation from July 2004 to June 2015. Rev. Jean Schmidt served as an Intentional Interim Pastor for two years. Rev. Mark Weaver was welcomed as the full-time pastor in July 2017.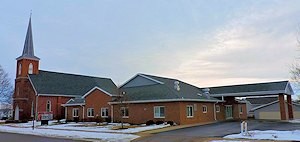 In early 2008, after nearly three years of work, a new addition to our current building was completed. The addition has provided a ground level handicapped-accessible fellowship hall adaptable for classrooms and other uses, a covered drive-up entry, two new classrooms, with a small bathroom, which are used for our Preschool during the week, two large bathrooms, a state-of-the-art kitchen, new offices and new sound system. An open house for the community of Lancaster was held on Sunday, March 30, 2008.